Home

Chasing Matisse: The Book

Chasing Matisse Preview:
Cover and Prologue

Buy The Book

Book Signing Schedule

News & Reviews

James Morgan's Bio

Beth Arnold's Bio

Book's Press Release

Leaving Home

Introduction to the Journey

Travel Itinerary

Beth's Travel Diary

The Sketchpad

Photo Gallery

Travel Notes and
Recommendations for France, Corsica and Morocco

Chasing Matisse Newsletter

Contact Us



View All Diary Entries Here
March 31, 2005
A Life in Paris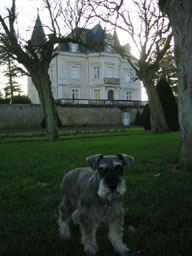 This column is dedicated to Snapp Morgan--handsome and smart dog about town in Little Rock, Arkansas, and Paris, France. He was the dearest of dogs, true friend and family member. I know your grandmother met you in Heaven with a bone, and you are flying high.

We spent 13 months on the Mediterranean Coast with the Pyrenees Mountains behind us in the village of Collioure. I'd imagined us living in a fishing village, and that's just what Collioure had been until tourism supplied its livelihood. We were fortunate enough to find a small loft in a village house that was freshly renovated. Everything in it was spanking new except the thick wooden beams that sliced across the ceiling of our living room. As the ceiling dropped to the sides of the house, the beams were head-banging height, and at times, the top of Jim's head was bloody from all the knocks he'd gotten from forgetting to duck. He just didn't learn.

French doors led to a petite balcony from which we had a spectacular view of voluptuous vineyards, a grand chateau, and old fort. Not bad, as M. Malric of our favorite hotel in Paris, the Hôtel St. Germain, would say. Jim wrote Chasing Matisse. I fought with Dell over my non-working computer, listened to French lessons on CD, read French history along with other books that had been stacked up for years, began exploring this richly rewarding countryside, and grieved the loss of my mother. In summer, we walked five minutes to the beach and swam in the turquoise sea. In winter, we took our dear dog, Snapp, on long walks up and down the tiny rues. We met new friends, shopped in the outdoor markets, and threw gay dinner parties.

Then our 67 year-old land-lord decided he would like his latest girlfriend to inhabit our garret loft instead of us. Even in the spirit of his sowing his latish oats, I couldn't imagine why he'd prefer a romantic arrangement to our good company and the enticing aromas of my cookery drifting down his stairwell. But he did and kicked us out. (On a gossipy note: The girlfriend has come and gone since we left though I haven't yet heard if there is a replacement.) Nevertheless, we found a beautiful apartment in the 2nd Arrondissement of Paris, a block from the Place des Victoires. We packed our possessions—our computers, books and files, Moroccan rugs and Haitian tin art, our Indian spreads, leather club chair and antique tables that I'd hunted and gathered while we lived there. We said tearful goodbyes to our new friends, put Snapp in the truck, and left.

It was revolting that we'd acquired so much stuff to make our first French apartment functional, comfortable, and reflective of us that we had to rent a truck to move. Here we go again! Is this the way we are and cannot change? I know a few things about myself. I require order where I live, and I must have beauty surrounding me and so does Jim. A life without beauty is empty, boring, dull, and well, beautyless. I wasn't cut out to live a plain life in any sense. It would break my spirit and render me null and void.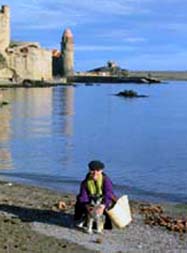 It has been nine months since we moved to Paris. Our new apartment is small though lovely—classically Parisian with a Moroccan twist—and dates from 1620. (Napolean Bonaparte once lived in our building.) The colors are spectacular with the green of Mimosa leaves in spring and a luscious luminous blue accented with jewel aubergines and rubies. It is chic and looks and feels like us with two exceptions. We have a closet of a kitchen which shoots my usual entertaining style to hell (though we've learned to manage), and we wish we had another room or two. Americans are used to space. As throughout our trip in France, I adjusted more easily than Jim. Change is harder on him than me. We gladly gave up our car and walk or take the Metro, a taxi occasionally.

Snapp instantly became a popular dog about town. We couldn't take him for a walk without being stopped on the street by numerous admirers. The French love dogs, and Snapp had such a gentlemanly presence. People recognized his grand spirit and soigné at once. One summer day two Japanese women asked me to take their picture with him. I use the past tense, because almost six months ago Snapp became very ill. He was 13 years-old, and his kidneys were failing. We had to put him to sleep a month ago which broke our hearts. We lost our dear boy, pal, and treasured member of our family. But Blair and Bret were here for Christmas, and we rented a car and drove to Alsace for a few days. Mr. Snappman had one last adventure in France with his family!

It is good we left Collioure. As glowing as it is, Collioure is a very small town. I loved it and the region—the Mediterranean and Pyrenees, the vineyards cascading down the hillsides, and the Catalonian people and their dance of sardane. But the town shuts after the season, which in a way makes it more authentic, but there isn't much going on. Frankly, I wanted the heartbeat of Paris and all the cultural opportunities that come with it. I knew I wanted to live here. I'm a city girl at heart, and it's a delight just to step out the door and walk down any street at all. Beauty is around every corner, when you least expect it. People are sitting at sidewalk cafés drinking coffees or glasses of wine. Store windows are artfully arranged, and boulangeries are loaded with cases of croissants and meringues, restaurants are waiting to be tried.

We're in the center of this city of lights, making new friends, attending the opera and listening to jazz. Our neighborhood is divine! It is good to live here. We have started a new life, and I feel at home.

Now Chasing Matisse is finally out, and you can read Jim's lovely rendering of our big adventure, or let's say, his version of our story! Please support your favorite bookstore and pick up a copy or use the link to Amazon.

I hope our journey will inspire you to chase your own dreams whatever they are! We will be chasing ours.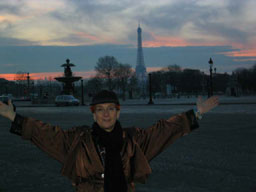 posted by Beth on March 31, 2005 | View All Diary Entries
---
February 18, 2005
(Note: I pick up once again—this time to finish our trip. I'll fill you in later on where we are now and a brief description of our lives in-between.)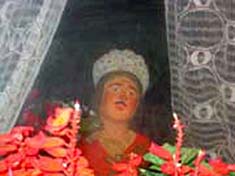 We left our luxurious little nest at St. Tropez's Hotel Le Yaca as the procession for the saint the town was named for wove through the village with its fife and drummers playing. I caught a glimpse of the ritualistic military corps in costume and saluted. I still wished for an ancient bust of their patron saint and hero, Saint Tropez, and one of these days I'll find it. I know I'm meant to have one.
Jim and I were having our leaving spat that couples have when they're trying to get out of town and go anywhere. This time it took the form of whether he should get in touch with a friend of a friend of his who happened to live in the area. He didn't want to do it which was often true in a larger sense. He knows that if I think something is important I'll do it, while he's busy preening as Mr. I-Don't-Care and won't. Making contacts in a foreign country where we didn't know many people—expanding our circle—was something I considered worthy.
I admire this typically male behavior in some regards. It's pleasing as well as efficient to do only what One wants, is interested in, and of the import to merit One's attention. But usually for us females, inevitably me, this leads to being knee-deep in One's manure because it's in my/our best interest for whatever it is to get done. Another appropriate appellation for wives could be "Pack Mules." Hee-haw, hee-haw!
We motored through the traffic and through the hills and vineyards to make our way to Aix-en-Provence. This wasn't technically on our Matisse itinerary, but Henri Matisse greatly admired the painter Cézanne and had bought one of his paintings when he could ill afford it and kept it for many years as a touchstone of sorts, a prized possession that he wouldn't sell no matter what.
We'd been in Aix only one time before and had visited Cézanne's studio. I'm sure I've written about this before, but how can I help myself? Visiting an artist's studio is a great pleasure, a peep into his or her vision of art and life, a virtual lesson I highly recommend. I find that the creative energy lingers, and the choice of art, objects, and furnishings the artist surrounds him or herself with is a parade of his or her dreams. The inner voice has found an outer reality in a concrete object, a particular hue or design that calls to his or her sense of beauty, form, shape, texture, or color—some example of personal delight—that I can admire, ponder, and react against just as his or her art. Cézanne's studio was no exception.
The one day we were previously in Aix it was as hot as Hades as my mother would say. I have learned from too many scorchers that even lovely locales such as Aix can lose their charms when I'm roasting. All I want to search for is a mother of an air-conditioner which may be in our car while it's speeding away. This time Aix was warm but not hot as hell, and we discovered a beautiful town populated with shady plane trees and bubbling fountains suitable for water nymphs. It harbored a core of handsome architecture and hidden squares of graceful repose. The air was young and old, refined with a vapor of intellectual vibrancy.
This also aptly described our chosen hotel, the Grand Hôtel Négre Coste, along with an additional characterization of shabby chic. We loved it. Its location on Aix's main and delicious street, the Cours Mirabeau, was perfect, the staff friendly and genuinely helpful. I'd read that jazz musicians stay here when they're in town. It's that kind of place.
For me, another draw of Aix was the late writer, M.F.K. Fisher. I love Ms. Fisher's work, her writings of food and her life in France. As a single mother in Aix, she'd pick up her daughters after school and take them to Les Deux Garçons for a treat of chantilly while she indulged herself with a whisky. Now that's a woman to admire! I'd like to follow Fisher's trail around France—stay in her chosen hotels, dine in her restaurants, and prepare her recipes. She once wrote about a hotel in Dijon that had wine on tap in all of the bathrooms. It can't exist now, but I'd like to find out. Can you imagine how handy? Of course, we walked down the boulevard to Les Deux Garçons. It's not the same as during her time there, but I drank a whisky in her honor. If I make my trip, I'll do the same wherever I go. To M.F.K. Fisher, salut!
I found a good stationery store in Aix which pleased me since I couldn't find one at all in St. Tropez. As much as I liked St. Tropez, I found it terribly odd and rather frightening that one could buy a rasher of bikinis but no pen cartridges or diaries. One could write while lying on the beach. Sun-worshipping, seeing-and-being-seen and writing notes don't have to be exclusive activities.
Our friend at the hotel, Ricardo, recommended Les Agapes for dinner. When we found it tucked in its little rue, we were attracted by its ambience, rusticity and intimacy. A corner fireplace was used to grill the meat. What is it about watching your dinner being cooked that makes one's mouth water? Are the aromas more intense? Is it the act itself, the cozy feeling that you're in the kitchen with the chef or in someone's home? People love to gather in a kitchen. It's the center of action, the heart of the house where a family's love comes out in a meal to be shared. This was the feeling of Les Agapes.
I savored a delicious brandade for a first course, lamb for the next, while Jim ordered salmon with avocado to begin and duck to end. It was a wonderful meal, and Aix-en-Provence was another place where I'd like to return maybe next time in the cool Fall or Winter. And one of these days, I will. But this was the end of my and our time now.
The next day we packed up our car for the final time—technically—in our journey of chasing Matisse. It was the end of our following the steps of the life and painting of Henri Matisse, but while we were chasing the master we were also chasing ourselves. What a ride it has been!
____________

I could've gone on and on and will keep moving in new directions, but this time I'll be following myself, my art and life. I have the desire, momentum, and will. Chasing Matisse is a journey that will never stop, and I'm determined to see it through, to create the life that I want. What will be around the next corner? I don't know, but I've become more open and have discovered the capability to stop forcing my issues, to let go and explore new possibilities that present themselves, to feel my way into the future.
Freedom is a word that we all love, but the most cherished freedom of all is to find our own truths, and in that, to live life with the integrity to be ourselves.


posted by Beth on February 18, 2005 | View All Diary Entries
---
July 7, 2004
(Note: Since finishing Morocco, I will pick back up in Vence and our original journey.)





The Vence of Matisse to Signac's St. Tropez



Coming and going, staying and leaving had defined our lives for many months. For me, the leaving carried a bit of sadness in losing a new territory in myself and France that I'd only found. Almost invariably, I wanted to experience more than the sites one had to see, and we didn't have enough hours in the day or were too tired to fully explore, though I torture myself by cramming in as much as I can. I want it all. One of the best ways to really understand a new place is to allow yourself to just be there and soak it up, but the clock ticks my minutes away, and my natural desire is to dig deeper and discover hidden viewpoints which the local people know in their genes and tourists don't have time or the inclination to probe. There must have been at least a town or two which didn't enamor me in some way. If so, I can't remember them. Whether beauty or culture, history or cuisine, something always intrigued me. I wanted to know what gave the ground and its people their shape, the meaning behind the vistas. I researched and read, asked questions of anyone I could, and tried to "get" enough of the landscape and its people to feel it and them. There was much I still didn't know.

Leaving was also the most difficult for Jim, because he hated loading the car with the scads of baggage we were now carrying. It's not that I blamed him, but he grumbled and moaned until he was in a foul mood and took his sweet time getting over it. The leaving of Vence entailed more than our usual departure moodiness. Matisse's house, Villa La Reve, was a raw jewel. More than 50 years after Henri Matisse had lived there, it still held a piece of his creative force, and we hadn't yet mined all its secrets. As I have said previously, we could've happily stayed for months. Joelle, Villa La Reve's manager, had been open, kind, and generous giving us the run of the place. Returning to the road was parting with our Matisse Mecca, and once again it felt like leaving home, a home we no longer had.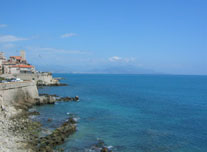 Yet along with our moping was anticipation of the next adventure, and on this morning when we drove away from Vence, we were headed to Antibes. When we arrived, the sea was sparkling blue and the quaint market was in the process of folding up. One robust man sang a French ballad while he packed the last of his inventory. Our lunch was a sandwich, and our dessert was a tour of the Picasso Musée. I admired M. Picasso more than I ever had after seeing his body of work here. The museum is a wonderful tribute to his genius. He may have been mean, especially to women, but he seems to have been more generous with his endowments than Matisse. Is leaving a tremendous legacy to your own museum a sign of more or less ego? Did Matisse sell his away and not have much left? Did he need the money?

From there, we moved on to Vallauris for a look at the town and its ceramic tradition Picasso revived by taking a shine to working with clay and expressing himself in pottery. Shops lined the main avenue, and since dishes are a penchant of mine, I had to prevent myself from buying a wonderful brown, black, and turquoise plate of a woman classical yet original. It was not typical in any sense but the work of an artisan whose name I don't remember but whose skill I admired. If I returned today, I would purchase it. And Picasso? A shop called Madoura has the rights to sell copies of his pieces if you are burdened with a leaning such as mine.

As the film festival was in progress, we chose to skip Cannes. The irony of that amused me. For many years, my heart would've exploded to be able to attend it. It's not that I wouldn't still adore being in the thick of it, but an invitation inexplicably hadn't turned up. Time was short, and there was much on our agenda. We drove on to St. Tropez. Many people talk about the snootiness of this former fishing village, but almost all the plush hotels had wanted to welcome us with a discount. Their interest and appreciation of our chase of Matisse was a symbol of more than superficial concern and heartened us in many ways. More were interested here than anywhere else we'd been on our extensive itinerary.

We checked into the merely divine Hotel Le Yaca, and our bags were delivered to our charming and luxurious room with its door into the oasis of garden, pool, and restaurant. Le Yaca is a salve for the weary body and soul, and we rested on the beautifully-sheeted bed before strolling down to the harbor to gawk at massive yachts with staff while imbibing a drink at the Café de Paris. Jeem and Beth Joade of the stuffed Peugeot station wagon gaped at this decadent scene that we might have confused with an episode of Robin Leach's "Lifestyles of the Rich and Famous" except whomever of the fabulously riche owned these vessels was no one we recognized, and Mr. Leach was nowhere in sight. We thought some of the celebrity festival-goers might have made this foray down the coast, but no star-sightings awaited us.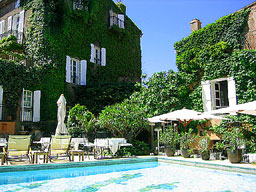 The next morning we sat in the garden relishing our morning coffee by the pool. My thoughts drifted back and forth from France to the U.S. Since my mother's death and our return from Arkansas, bitter notes that erupted from the aftermath had been arriving almost daily, creating waves of worry and stress that rolled through my grief. In addition, Mother's death had been the final blow in a year of changes that had overwhelmed our daughter, Bret, and she had made a pivotal decision to drop out of school for the next year. As I sat in the garden, I knew our adventure was borne in many ways which we could never have foreseen but were forced to cope with, and I was trying to find my center and be true to the issues that spanned two continents of being a good mother, losing my own, and forging ahead in this incredible journey that had been my and our dream. It was a constant torturous rub, but in the complex workings of our minds, distraction can be a useful tool. St. Tropez was full of them, and they provided a respite. The high season hadn't started, and the village wasn't clogged with visitors. If haughtiness is a common denominator of that period, we missed it.

We were astonished by the Musée de l'Annonciade. Paul Signac had been the artist-in-residence in St. Tropez, and his family still has a home there. His paintings anchored the collection that also included wonderful paintings by Matisse, Vuillard, Bonnard, Braque, Dufy, Van Dongen, and others. The museum was small, manageable, and showed one of the best collections we'd seen anywhere in France.

For eight euros each, we took a tourist boat ride around St. Tropez's bay, and it was worth every centime in pure pleasure to be cruising with the other sailboats and yachts on the sapphire Mediterranean on such a beautiful day. We glimpsed multi-million dollar villas, the filming of a French soap opera, the less dramatic house of actress Bridgette Bardot, and a long black line of villagers in their funerary march down the hillside to the seaside cemetery.

Later that evening, we happened upon a milling crowd including men with fifes and drums. A local restaurant owner explained it was the Bravades, the procession that commemorates the anniversary of the running aground of the boat carrying Saint Tropez's decapitated head and body. The Town Captain and his officers led the procession. Actually, this turned out to be the dress rehearsal, but it was such a festive and joyous occasion that Jim and I joined in with the boisterous crowd. Jim lightly ran along the stable of yachts, and we marched around the whole village before finding the Cohiba Café for tasty tapas of chicken brochettes, squid, aubergine, cheese, grilled veggies, and drinks. It was our first French procession, and we felt part of the energy and spirit. We felt like we belonged in some odd way.

That would end the next day when we would be leaving…again. The splendid Le Yaca with its terrific staff would hopefully await us for another visit when we could extend our stay. The recent history of St. Tropez with its summer season of beautiful people is famous, but I want to march in another Bravades procession and discover more of the St. Tropez that existed long before they arrived.

posted by Beth on July 7, 2004 | View All Diary Entries
---
June 29, 2004
The Light of Morocco



Clear light burst open the sky, illuminating our clues of Henri Matisse that were hidden in the muddle of Tangier. We stood on the periphery of the Grand Socco looking up and down for the way to the Grand Hotel Villa de France where the Matisses had stayed and Henri had glimpsed scenes that matched his artistic vision. Jim was armed with a book of the paintings, and I carried my Morocco guide and map. We looked every bit the awkward tourists, but most Moroccans don't know much if anything about the artist whose lush paintings have etched the colors and forms of their country in the minds of art-lovers throughout the world. Not a swarm but a couple of faux or real guides approached us though we convincingly declined. I don't engage in conversation with hustlers unless it feels safe and right, the right time and place. Most importantly, we wanted to be on our own.

We were looking for the rue d'Angleterre and finally figured out it was past the lovely English church of St. Andrews with its wild and unruly secret garden of a cemetery where journalist Walter Harris, members of the Royal Canadian Air Force, and other English-speaking expatriates who infused their lives with this enigmatic city are buried in its earth.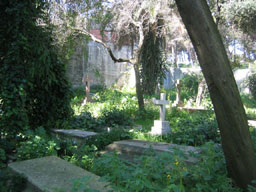 What allure or circumstance of life had drawn and kept them here? I didn't recognize their names or know their stories, but the mysterious unkempt graves were a summons to consider them. Time has taken its toll, the world here has changed. This yard must once have been pristine and probably cared for by some of its now eternal residents. The congregation is surely much diminished which implies a lack of funds for upkeep. If there were families of the dead, many of them have likely moved on, and friends are in the ground elsewhere. The earth is taking back her own. Nature has survived.

We wandered through the overrun and sun-dappled garden before walking up the street to the Matisses' hotel which must have been quite grand but now is shut and surrounded by its own jungle of neglect. A completely-covered Muslim woman passed us as Jim looked at old pictures of the lodging and of the scenes his hero painted and finally pointed out the room where Monsieur and Madame must have stayed. It is always a thrill to make such discoveries, but for Jim it's even more satisfying to find the angle that intrigued Henri enough to color a canvas with his mental picture of it.

Our great goal for the day was in the Kasbah, and miraculously, we found our way the first time we climbed the hill. We walked through the gate of Bab el-Assa, and Jim realized the exact perspective that was subject of the huge Matisse poster we had hanging at our apartment in Collioure. He sketched while I looked around. The Kasbah. Again, I found it the place where I wanted to spend my time. It is the highest point of the city with white and blue walls and the sapphire sea beyond. Mansions framed one side of the wide courtyard with terraces and views beyond the ramparts. If I were a resident, I would want this address.

We diligently and sometimes luckily found all of Matisse's vistas. A couple of times we didn't notice the eye-scapes walking in one direction on the narrow cobbled streets, but when we made a foray into the cluster of buildings/homes/shops and returned the same way, we had moments of Aha, we've found the right scene! A friendly Belgian couple pointed out what they thought was the bar where the Rolling Stones used to hang out. I wasn't so sure, but okay, we went in and sat down.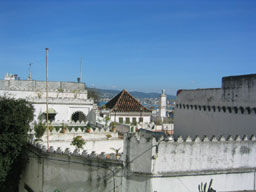 I still think it a usurper, but from there, we gazed onto the rooftop terrace of the villa Barbara Hutton owned for many years. The outdoor space and garden were inviting though needed a paint job for fluff up. I could imagine the swell parties and glamorous guest lists Ms. Hutton must have sublimely engineered. Unlike M. Matisse, her name is well known here. She was a friend to Morocco's people (and animals) and endowed many good works. We also checked out her address from the street. Not bad, as the Hotel Saint Germain's M. Malric would say.

The only potentially smarmy experience we had was with a fairly neat and well-dressed guy who told us he'd take us to Paul Bowles' house. I was suspicious, but we were on a relatively spacious and clean street, so we went along. The street's name was accurate, but when he started up a tight staircase, we said no thanks and left. Did he have good intentions? I don't know, but my radar was up, and there was no way I would've followed him at that point, especially since the "Rolling Stones hangout" owner had told the man we were his friends, and I thought his real message was to leave us alone.

When we descended from this heavenly summit of Matisse Land, it was market day and the medina was filled with Riffian peasant women with their red and white skirts and broad straw hats. Their look and style is totally different than the women who are covered from head to toe in a loose caftan or jellaba, scarf, and veil. Due to Tangier's proximity to Spain and an area that is still Spanish Morocco, many people greeted each other with "ola" rather than "bonjour."

It was a terribly satisfying Matisse day, and we rewarded ourselves with cocktails in El Minzah's merely perfect bar before our last piquant dinner in the restaurant. Mission accomplished. We packed our bags.



*



The next morning we reunited with Aziz who drove us back to Casablanca along the miles and miles of undeveloped coastline. This would be an unbelievable sight in the U.S. or France. It is good to know that such an unspoiled seashore still exists though I'm sure it wouldn't if Morocco wasn't so poor.

We rested for a few hours at the Royal D'Anfa Hotel before meeting the incredible organizer of our trip, Adel from Olive Branch Tours, for a wrap-up about our terrific experience and to say goodbye. I would call Olive Branch and Adel for anything in Morocco. They are pros at their best.

Aziz picked us up and drove us to his house for a home-cooked Moroccan dinner. It was a generous invitation we had been delighted to accept. When we arrived, his mother and two sisters kindly and openly welcomed us in their home. His children were darling, and they all treated us as honored guests or friends they'd known for years. His sister had graciously prepared our meal. What a feast! Course after course of salads and chicken with olives and dishes I can't remember the names of but devoured with glee were served, and for dessert, we had oranges as big as grapefruits, juicy and sweet. As we were putting on our coats to leave, the family offered us beautiful presents. Jim received a white hat that Aziz's father had brought home from his pilgrimage trip to Mecca, and I was given a sweet cedar box with a traditional silver necklace inside.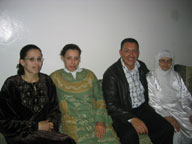 Aziz was the only one of his family who spoke English, and we don't speak Arabic or Berber, so our communication with each other was through body language, sign language, our sensations of tasting and touching, seeing, hearing, and smelling, and the intimate messages that somehow one just feels or knows in his heart or gut. After we all hugged and kissed, Aziz drove us to the airport where we said our last goodbyes.

In the blackness of night, a clear light illuminated our way back home.


posted by Beth on June 29, 2004 | View All Diary Entries
---
June 3, 2004
The Port of Tangier



Tangier conjures visions of mystery and intrigue, spies having secret signals and hushed conversations, men slinking through the night like worn but agile tomcats, and old gay men coming from the West to find solace and pleasure in their select young parallels. It is a city of and for men. I felt this nowhere else in Morocco, but these cafés told the tale. They are full of men huddled together in conversation, sipping their hot and sugary mint-infused tea, dragging on smokes, staring into the streets, their lives and worlds. What do they see? So many need work. Unlike in France, women are almost completely nonexistent in Tangier café society. The only female trace was a random European who must have been either very brave or foolish to have made herself a place. I'm a fearless traveler, but either I didn't have the courage or I had the good sense to skip this experience. I didn't feel unsafe, but the scene was a little creepy and didn't suit me. (If you want to debate the point that the whole of Morocco has this culture, I will agree theoretically, but Tangier is vastly different. It doesn't slide neatly into a Moroccan pigeon-hole.)

We had been told that most tourists don't go to Tangier. The life and cultural ambience of the city don't justify the time spent here, but this was the Moroccan city where Monsieur and Madame Matisse had lighted, and one of Henri's most famous series of paintings emanated from this period. Tangier was our ultimate Moroccan goal. I liked Tangier, then didn't, but swung back round with one important caveat. Tangier isn't easy. It is murky, intense, hard to read, and takes some time to navigate inwardly, at least. For us, the effort was satisfying. I was glad we went.

To understand Tangier, you have to know a little of its history. The Greeks and then Romans with their Celtic cavalry settled here before the Arabs arrived to war with the indigenous Berber tribes. Many other invaders took their turns as well. Tangier reminds me of Havana in that its location on the sea made it a prime target for all the aspiring nations who wanted to control its well-situated port. Most of Morocco became a French Protectorate in 1912, and in 1923, the resolution among the competitors for Tangier was to make it an "international zone" that was run by diplomatic agents of Britain, Spain, France, Portugal, Holland, Italy, Belgium, Sweden, and the U.S. Tangier was wide open for bankers, libertines, exiles and refugees, artists and writers, and others for whom the "anything goes" posture of licit and illicit dealings packed a punch. Spy stories abound, and if Graham Greene didn't set a story in Tangier, he should have. The fun ended in 1956 shortly after the French handed Morocco back to its people and rulers, but there is still a leftover atmosphere of shady maneuvering.

The other important point in understanding Tangier is that it's the entrance for Europeans coming into Africa, a short ferry ride from Spain, as it is the gateway for Africans who are headed to Europe. A number of people travel back and forth every day, so there is constant traffic, transition, and opportunities for all that crossing these borders implies. The city is also known for its hustlers, and we got advice from the hotel staff, our driver Aziz, and guide Omar to be careful. We had no problems and looked every part the rube tourists searching out Matisse, though we were alert and on the defensive.



*



The morning after we arrived, Omar led us through the souks of bright vegetables and luscious fruits, pale chickens hanging by their feet, mounds of red meats, crusty golden breads, multi-flavored olives, and more.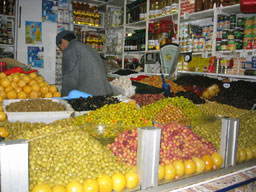 Women from the Rif wearing their red-and-white-striped cloth skirts and embroidered wide-brimmed hats had come to sell their homemade cheeses. Aziz advised the best is goat, but theirs was a mixture of cow and sheep's milk. We passed by the historic American Legation where during World War II much of the Allied landings into North Africa were planned and later stopped at the Hotel Continental for a coffee. The old hotel gleams from the outside but has seen better days once you step in. It has been the home for many film crews shooting exotic movies. Photos of John Malkovich and Francis Ford Coppola hung in the antique shop next door.

Omar had been guiding us for several jam-packed days, but he was hopping a bus back to Fez to host a family wedding party. We were sad to see him go but were looking forward to bumbling along by ourselves again. But before Aziz would cut us loose, he drove us to a resort outside of Tangier where mansions abound, the coast is expansive with rolling sea, and the Grotto of Hercules is hidden underneath the baked earth. Yes, Hercules lived here, and he is heralded by a festive "See Rock Mountain" feel in the square above his seaside cave home. Sea shells are attractively embedded in the stucco walls with turquoise buildings, and a giant mural of the brawny hero is painted on a rock wall. Camels are saddled and ready to ride. A small boy in costume with donkey in tow asked if we'd like to take a picture. Jim said no. I said yes. We paid him a small price and snapped. Traditionally dressed Muslim women gossiped on a terrace with the white-capped waves crashing below them.


As we walked down into the cave, the guide told us the story of Hercules and later the Berbers who had lived there.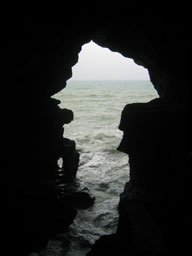 He pointed ahead where the rock walls were splayed open in the shape of the African continent with the ocean lapping just beyond the massive crack. I was startled. A couple of months before—on Jim's birthday—I'd dreamed of this place not knowing what or where it was. In my dream, Jim and I were at an enormous cave with a vast body of water at the foot of the opening. In my dream, it was also a resort. Our daughter, Bret, had come across the water in an inflatable boat by herself, and I was completely impressed by this. She had come to tell us that no one could find my grandmother (who died last August). Bret and I would cross the sea again, but this time we would use a more substantial craft that I would drive. The next morning I recorded the dream, because I thought it so interesting, something I needed to contemplate. Finding it in Morocco as an ancient home for myths and legends and people who lived and breathed was surreal. Was it some sort of premonition? Why? What did it mean?

I told Aziz my weird tale as we drove back to Tangier. He found a quay-side bistro where we inhaled a lunch of crispy fried squid, whole whiting, grilled shrimp, and rice. It was mouth-wateringly delicious and authentic—not a tourist spot—and some of the best fish we'd eaten anywhere. We wished Aziz a happy time off and walked to a well-known bookstore which supposedly had a good selection of English volumes. The only one we found was a Moroccan cookbook with recipes of many of the richly-spiced dishes we'd been savoring. I bought it with plans for a Moroccan feast of a dinner party. But the store itself was dark and somewhat foreboding, and I didn't get the rush of excitement which the houses of published stories usually fill me, where a myriad of writers' words, visions, and dreams provide endless possibilities to transcend and transform on the never-ending search.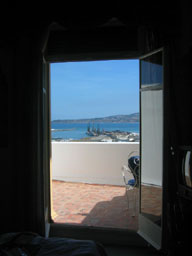 Later that evening, we sipped icy bourbon on our whitewashed terrace with its glorious view of the port of Tangier and blue sea beyond. On sunny days one can see all the way to Spain and Gibraltar but not this day for us. Perhaps the light will be here tomorrow.








posted by Beth on June 3, 2004 | View All Diary Entries
---

View All Diary Entries Here